Antique Maple Wood Darning Egg Darner for Socks and Handknits by LadyDanio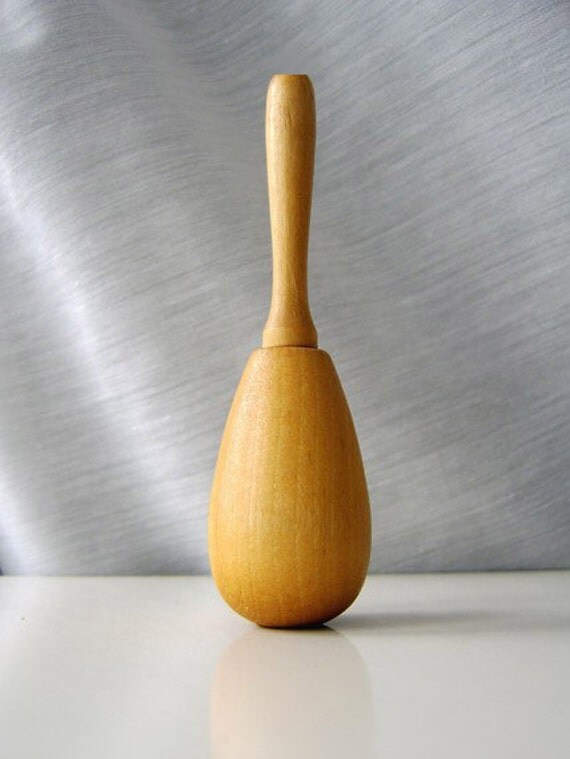 20,00 USD
This antique, post-WWII darning egg is the perfect shape for darning socks with and its attached handle gives your hands something to grip onto as you work. The sock is stretched over the curved top of the egg, and gathered tightly around the stick to hold it in place for darning. The gently curved, decorative features of the egg are gorgeous.
The wood looks like it is a warm maple or oak and is lightly polished and worn smooth from years of darning. It is in fabulous condition. The handle removes from the base for easy storage. I love the close-up photo that shows you all of the awesome teeny nicks in the wood from the darning needles that were used.
Darning eggs were a very common and important tool long before and during World War II, when a majority of the country actually knit and / or repaired their own store bought socks. This is aa real heirloom piece!
———————————– ———-
When I started knitting seriously, I discovered that my grandmother, Irene, had owned a darning egg. My mother and her sisters grew up on a farm, and Mom vividly recalled her mother sitting in the evenings on the farmhouse, diligently darning socks using the wooden foot form darner.
Grandma married my grandfather, Pap- Pap, in 1945, and they left the farm life and moved to the "city" in 1957, when my mother, the middle child, was 9. They bought their first house for $ 8,000 and were thrilled to have indoor plumbing. Grandma still darned in the suburbs though, continuing to use the darning egg.
I became enchanted with the idea of ​​owning a darning egg just like my grandmother's, and after scouring antique shops and acquiring a small collection, my aunt was sweet enough to gift me my grandmother's. Now I have more darning eggs than I know what to do with, so this your chance to own a darning egg too
Можно purchase on Etsy for LadyDanio <! - more ->